We're Here For You
Sid Dillon Ford Crete always puts customers first!
Don't take our word for it: Read our reviews and see what everyone is saying.
Quick service. Great tech guys
Tracey is always great to work with
Great customer service, easy to work with... Very greatful
Adam was very nice to work with..bought a 2021 Chevy Traverse
Excellent group to work with, my pleasure. Mike was very responsive.
Share Epp in the service department has been taking care of me for 4 years. He has not disappointed me. The service and customer service has been wonderful.
Quick and reliable service, as always!
Excellent customer service! One of the best experiences we have had in purchasing a truck. They went the extra mile for us.
The sales staff we worked with were all really friendly and informative. Very quick to respond and answer questions. They made purchasing a new car very easy.
My wife and I always trust Sid Dillon with the servicing of our vehicles. We are also very pleased with the sales staff at all of the Sid Dillion locations, as we are treated in a friendly and fair manner. Keep up the excellent customer service!
1st class service! Scott took great care of us! Thank you
The salesman wasnt pushy he was rather blunt and I loved it. I'll be back to work with him for my next vehicle.
We was very satisfied with our experience. I found the 2021 surburban on carguru and it was over 900 miles away from us in Louisiana. Well I called anyways and Kody answered and explained it all to us. Even sent us videos of the car to have a better in mind of what it looked like in detail. I fell in love with it just from pictures. But I will say that Kody sold us. He made the whole experience so easy for us that's why we decided to drive 900+ miles for this car. I just want to thank him for everything he did for our family. Amazing experience
Mike and Alex were so a awesome to work with. They made sure I was comfortable with the experience. And there was no pressure and I respect that so much because they showed respect to me
I live about 35 miles away. But the service is great
They always do a good job.
This is by far the best dealership I have been too. Adam and Ben were phenomenal def would recommend to anyone looking for a vehicle
I always like dealing with Sid Dillon Crete. This is my 3rd time. Everyone is so nice. Everything went so fast having things done ahead of time. My only issue is with myself.. not trying to wheel and deal a little more.. I might have been able to get some mud flaps included... lol
Very satisfied with my experience---they are always very understanding and helpful and took care of my needs. I plan to continue to use their service.
I like everything about sid dillons repairs they do for me, including the vehicle warsh after it has been worked on and before i get it back. Much appreciated. I tend to trust sid dillons techs that do the actual repairs more than other places and feel more confident in the out come after the repairs just due to the shop atmosphere and the experience.
Scott was extremely knowledgeable and really helpful. He made our experience unforgettable and quite painless. He really went the extra mile to make sure we ended up with exactly what we were looking for.
Never purchased a vehicle from them but I do get my vehicle serviced here. Always professionals and go out of their way to ensure customer satisfaction. They do customer service the way it should be done.
Our vehicle, a Lincoln MKS sedan, needed normal service of oil and filter change, check numerous other vehicle functions and have vehicle washed on June 2, 2021. The work was done well in a timely manner. Actually was in the service area for less than one hour to have this all completed. Thanks Dillon Ford Service Staff.
Everyone was amazingly friendly throughout the process. The price was exactly what I hoped for and I'd like to give a special shout out to Bill in Crete and Jeff Bernecker in Lincoln for all the work they put in to make the deal happen. I will absolutely work with them again!
Ford Blue Advantage: Confidence at Every Turn
Experience the benefits of Ford Blue Advantage! Each Ford Blue Advantage vehicle features a limited warranty, multi-point inspection, 24/7 roadside assistance, and FordPass™ Rewards Points.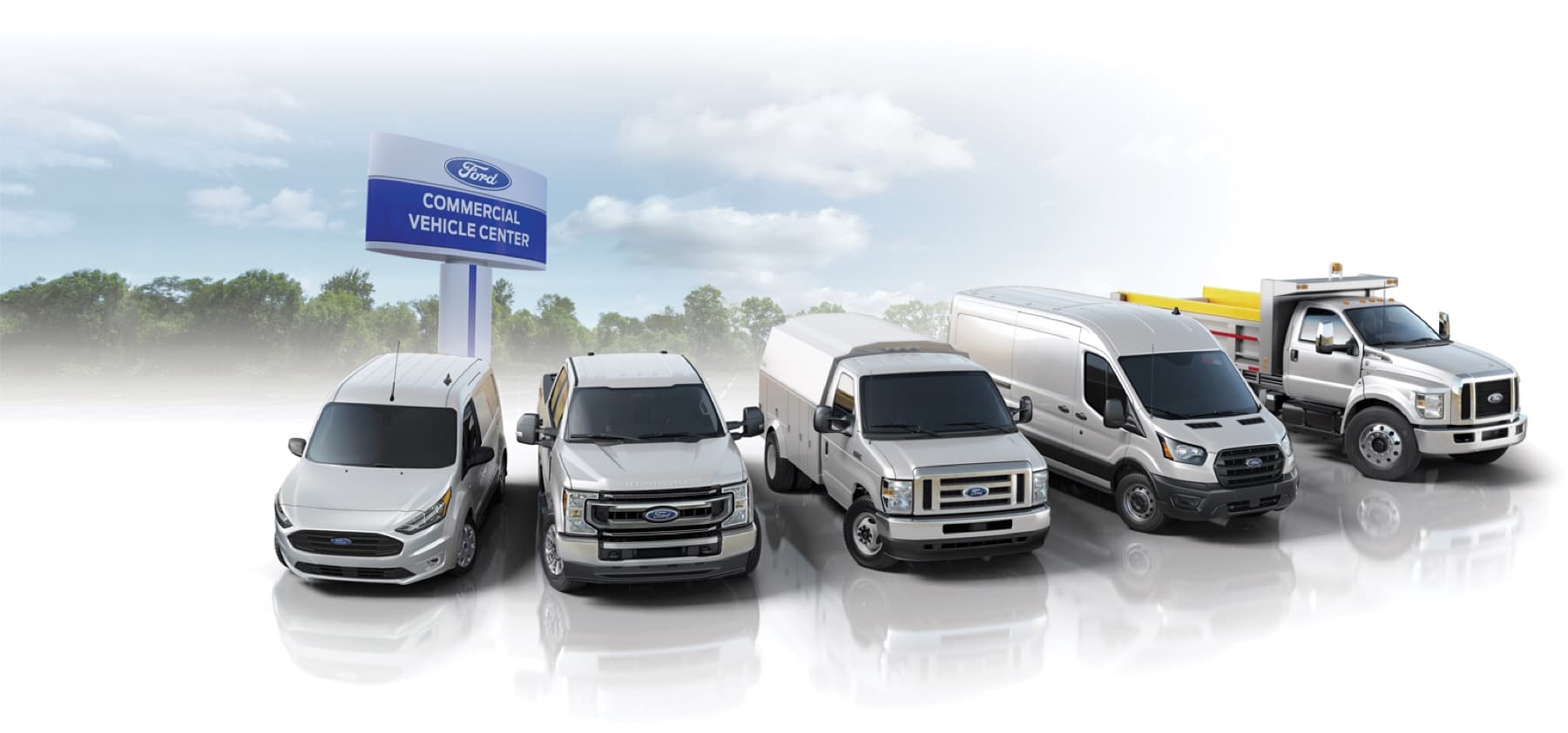 Built for the Road Forward
Your job has never been tougher. And we'll be here to help you keep working. Ford Commercial Vehicles are engineered to withstand the severity of everyday on-the-job duty.

Welcome to Sid Dillon Ford Crete
When you choose Sid Dillon Ford Crete, you choose a lifelong partnership with your dealer. We are committed to helping you find the right vehicle for you as well as preserving the performance, safety, reliability, and long-term value of your vehicle purchase. You can count on Sid Dillon Ford Crete for an opulent service experience from the moment you enter our showroom. Visit us today at our address — our seasoned professionals are ready to answer any questions you may have.
This dealership strives to provide the best vehicles and service possible to the dealership area. Or experienced sales and service staff is available to help you find and maintain your next vehicle. Visit our showroom today and let us help you find your dream vehicle!
Contact Us